CPAS0133: Development Education in the Era of Globalisation
Academic Year 2018/19
Archived
Spring 2018 Institute of Education
This list relates to the academic year Academic Year 2018/19 which ended on 05/07/2019
This list has been archived
All of the readings for this module can be found within the individual activity sections. Each activity includes a list of key readings. Further readings are also suggested if you wish to read in more depth or to explore a wider range of views. These further readings are available in the IOE library or can be obtained from other libraries, but due to resource restrictions we are not able to make all of them available online.





In addition to the readings for specific activities, you may also find the following readings useful for a general overview of debates and discussions related to education, development and globalisation:

Globalization of education: an introduction - Joel H. Spring 20090203886852,0415989469,0415989477,9780203886854,9780415749848

Book A good overview of key issues and relationships in globalisation of education systems and ideas. Provides particularly useful discussion of indigenous and religious perspectives on education and globalisation, and major international actors in education – UNESCO, World Bank, etc

If you are new to the MA programme or are looking for more general readings on development education, you also might find the following readings of interest:

You might also like to explore the following academic journals:

Development Education Research Centre

Webpage External resource. The DERC also produces a range of publications, including thematic research papers and the bi-annual Development Education Digest (which provides summaries of new international research and publications), that might be of interest to students. A full list of publications can be found at http://www.ucl.ac.uk/ioe/departments-centres/centres/development-education-research-centre/publications

If you haven't already done so, we also recommend you acquaint yourself with the following websites as they are regularly referred to within the module:

Activity 1 - Globalisation and Development Education

17 items

Further Readings

12 items

Activity 2 - Learning for a Global Society

21 items

Read at least 2 of the following key readings.

Further Readings

13 items

Activity 3 - Skills and Competencies for Living and Working in a Globalising World

25 items

Further Readings

21 items

Are Our Young People Prepared? - Alejandro Tiana 2002

Article This article is part of a special issue on 'Education For Learning To Live Together'; other articles in it might also be of interest.

Activity 4 - Understanding Global Citizenhsip

18 items

Further Readings

15 items

Activity 5 - Development Education Policies and Practices in Diverse Countries

32 items

Examples of National Policies and Perspectives

27 items

There are a number of reviews of Global Education policies in different countries on the GENE website

**DERC's Digest on Global Education (2015-2017). Annual Development Education Digest also provides examples of new international publications and research which might be of interest. (in press) See the DERC publications page.
All rights reserved ©
Profile Required
Reading intentions and notes are stored against your user profile. Please create a profile to use this feature.
My notes
You must be logged in to add a note
What are item notes?
You can use item notes to make personal notes on any of your reading items. Notes are private to you and will not be shown to other users.
You can review your item notes from the list, the item page or from your profile page.
---
How do I create an item note?
To make notes, first you must be logged in. Once logged in, simply click Add note? next to the list item you wish to make notes on. You can also make notes at the bottom of every item's detail page.
Your note will be saved automatically as you type.
Have you read this?
You must be logged in to set a reading intention
What are reading intentions?
Setting up reading intentions help you organise your course reading. It makes it easy to scan through your lists and keep track of progress. Here's an example of what they look like: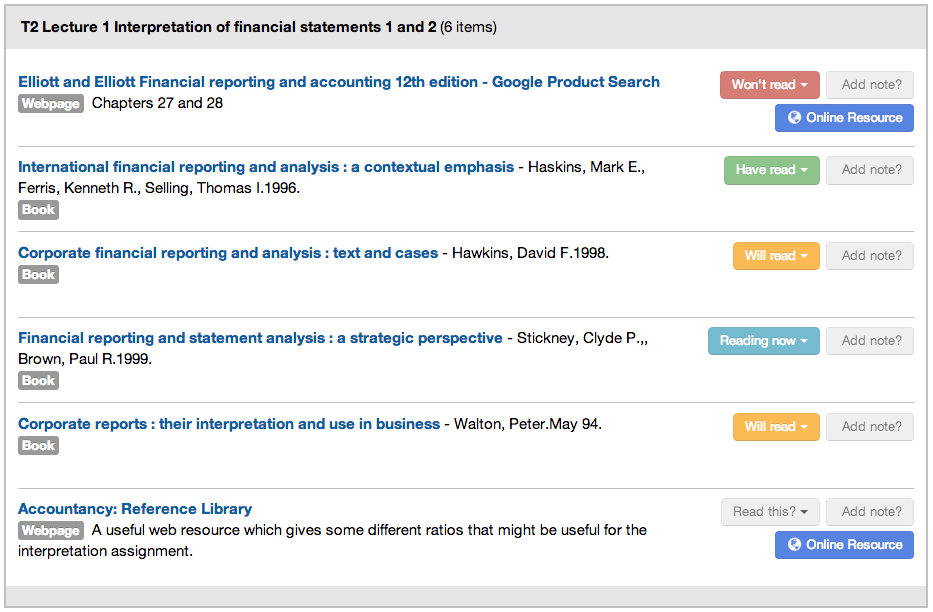 Your reading intentions are also stored in your profile for future reference.
---
How do I set a reading intention
To set a reading intention, first you must be logged in. Once logged in, click Read this? next to the list item you wish to set a reading intention for.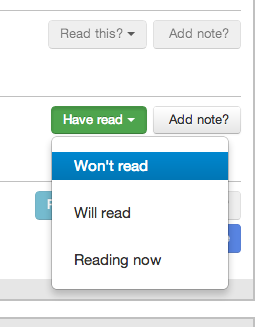 You can also set the reading intention from every item's detail page.