PUBL0032: International Law and Human Rights : Dr Nathan Derejko
Academic Year 2018/19
Course Format and Assessment:

37 items

The course is delivered through a combination of lectures and seminars. While lectures provide an introduction to specific topics, including relevant theoretical debates, seminars provide an opportunity to examine issues in more detail and to apply theoretical insights to practice. Seminars are student-centered and provide an opportunity for deeper discussion and debate on the week's key issues. Students should come to seminar familiar with the week's required readings. The course is assessed by a 3,000 word essay, due on 8th January 2018 (by 2pm) and a two-hour unseen written exam which will be in Term 3. The precise date of the exam will be disseminated by UCL in late Term 2. The essay and the exam will be weighted equally in determining your final mark. Further guidance and information on the essays and the exam will be provided throughout the course and there will be an exam review session at the start of Term 3. You will receive feedback on your essay far in advance of your exam

Required Readings:

4 items

You will need easy and regular access to the following book:

International human rights law - Daniel Moeckli, Sangeeta Shah, Sandesh Sivakumaran, D. J. Harris c20149780199654574

Book Essential Earlier edition of this title held in the library Search library catalogue for availability details

Additional required readings – treaties, cases, and articles – will be posted electronically.

Learning Resources:

32 items

Understanding the law requires not only that you know the relevant sources and legal norms, but also that you grasp how these norms are interpreted and applied in specific disputes. As such, reading cases is a crucial aspect of comprehending the law and is a central element of this course. Two issues are worthy of note here: the phenomenon of excerpting, and the skill of reading a case.

International law cases are long and tend to cover a multitude of issues. In the interests of exposing you to a decent number of cases, most case readings on this syllabus are excerpts that focus on one or two issues of particular concern. The cases excerpted in the textbook are especially abridged. Whenever you would like more detail on the facts or on the dispute as a whole, you may (and are encouraged to) access the full case via the relevant courts' website or an online database.

Reading a case is a skill. In order to get the most out of a case, here are some tips on the kinds of things you should be considering as you read. Your ability to participate effectively in seminars will be augmented by having considered these kinds of questions, and you may find it productive to structure your notes on the readings along these lines.

1. Who are the parties to the case?

2. Why is the court in question the appropriate body for this dispute?

3. Is the ruling in question a judgment on the merits, or a ruling on the court's jurisdiction or the admissibility of the case?

5. What are the substantive arguments of the parties?

6. Which sources of international law are invoked by the parties and the court, respectively?

7. Have any dissenting opinions been expressed? What is their significance?

8. Are you persuaded by the arguments presented and how the Court has responded to them? Would you have ruled differently?

9. Have any dissenting opinions been expressed? What is their significance?

10. Are you persuaded by the arguments presented and how the Court has responded to them? Would you have ruled differently?

Part I – Foundations

43 items

Week 1 - The Sources of International Law & the Birth of International Human Rights Law

22 items

What is international law and how do we identify it? The Statute of the International Court of Justice – widely considered to be authoritative on this point – identifies three alternative sources: treaties, customary international law, and general principles. We shall examine each in turn and consider the normative underpinnings of a legal regime defined in these terms. In our discussion, we will distinguish positivism and natural law, reflect on the foundational status of state sovereignty in international law, and consider debates over whether and how customary international law has developed in a natural law direction. We will also consider the role and meaning of jus cogens. In addition to laying the foundations for what follows, our examination of the sources of law has a second purpose; namely, exploring the historical precursors to international human rights law. Traditionally, international law has been created by states for the governance of their mutual relations; international human rights law changed that fundamentally by making the protection of individuals from their own governments a core international legal focus. But, even prior to that transformation, international law was already concerned with the protection of individuals in a narrow range of contexts, sometimes even within a state's own borders. We will explore three such precursors: the legal regimes governing the protection of aliens, the law of armed conflict, and the post-WWI minorities regime.

Required Reading:

6 items

International human rights law - Daniel Moeckli, Sangeeta Shah, Sandesh Sivakumaran, D. J. Harris c20149780199654574

Book Essential pp. 15-71, 75-95, 143-155

Further Reading:

16 items

Week 2 - The Contemporary International Human Rights System: Fragmentation and Jus Commune

21 items

The sources of law, of course, are only part of the story. A second foundational element in law is the concept of authority. We will return in the final part of the course to the issue of enforcement authority. Prior to that, however, is the question of interpretive authority. Who has the final word on what the sources of law say on a given issue? This is a matter of profound importance in international human rights law because the "regime" (if, indeed, it can be described in the singular) is remarkably fragmented. There are multiple overlapping treaties and a panoply of overlapping interpretive authorities. None has an identical population of states subject to its authority, and none has hierarchical primacy over all others. For some (not all) treaties, a particular court has the final interpretive word. However, that is the final word only with respect to obligations under that treaty. It is not the final word on the state's human rights obligations overall – even on the specific issue in question. The significance of this problem will be brought into stark relief in the ensuing weeks. This week we will focus on the balance interpretive bodies try to strike between upholding legality and democracy, on the one hand, and avoiding conflict and incoherence through the development of a global jus commune, on the other. In considering the successes and difficulties associated with such an approach, we will focus on the trajectory of global jurisprudence on the death penalty.

Required Reading:

8 items

Page

¶¶ 87-95 [see Moodle]  

William G. O'Neill & Annette Lyth, The International Human Rights System, (2008) pp.7-33.

Further Reading:

13 items

Part II – The Boundaries of Human Rights

252 items

Week 3 - The Types of Duty Imposed by Human Rights: Respect, Protect, Fulfill; CEDAW and the Duty to Protect

27 items

International human rights law is focused fundamentally on the state as the bearer of human rights obligations. This week we will explore the doctrinal implications of that focus. The classic human rights violation occurs when state organs or agents treat an individual in a way that infringes her rights. But what does international law have to say about the same kind of deprivation by a private actor, and about the state's obligations in such a scenario? What about when the deprivation is suffered as a result of broader cultural forces without any identifiable perpetrator? If international human rights law were silent on "private" or "cultural" violations, would the resulting distribution of international legal protection be just, or even minimally defensible? If not, what are the implications for the legal framework? We will examine how the human rights regime has handled these challenges through the respect / protect / fulfill framework. Our primary focus will be on CEDAW, but we will also cover the analogous jurisprudential developments in other parts of the human rights regime. In the course of this discussion, we will consider both the idea of a state's international legal obligation to transform the dominant culture, and the idea of an international legal duty to exercise due diligence in protecting persons against private violations, like domestic violence. Were there alternative methods by which international law might have intervened to address such deprivations? What are the normative and political reasons for retaining a focus on the state as the bearer of international human rights obligations under international law? What are the implications for the ultimate rights-holders? Finally, we will consider the role of reservations to treaties and how that concept is complicated in the context of human rights law. CEDAW is notoriously the treaty with the highest number of reservations, so it will provide a useful context in which to explore the significance of reservations.

Required Reading:

15 items

Asbjørn Eide, Report on the Right to Adequate Food as a Human Right, delivered to the Commission on Human Rights, U.N. Doc. E/CN.4/Sub.2/1987/23 (July 7, 1987) Arts. 107-117

Further Reading:

12 items

Week 4 - Balancing, Proportionality, and the Margin of Appreciation

39 items

The state's positive obligation to protect rights from private (or even cultural) deprivation immediately raises the prospect of rights obligations in conflict. Does this prospect preclude the idea of rights as trumps? If so, what would be the implications for human rights as issues of international (i.e. external) legal concern? Put another way, what does the prospect of having rights on both sides mean for the idea of human rights law as setting the boundaries of acceptable domestic political decision-making? Here – and also in cases in which certain rights conflict with core collective interests, such as public order – supranational human rights authorities have turned to "proportionality review" as the mechanism by which to determine the state's international legal obligations. Some, but not all, institutions have combined proportionality review with a margin of appreciation that grants varying degrees of deference to domestic institutions in resolving these conflicts. Is the value of human rights lost in this solution? What alternative paths might have been taken? What are the implications for the institutional distribution of power? What does all of this entail for human rights activists and the tactics and strategies that are privileged in waging human rights campaigns?

Required Reading:

19 items

UCL Policy Briefing, The margin of appreciation doctrine in European human rights law (2014)

https://www.ucl.ac.uk/public-policy/for-policy-professionals/research-insights/European_human_rights_law.pdf

Further Reading:

20 items

Week 5 - Emergency, War, Terrorism, and Derogation

40 items

Situations of national emergency provide a different and more profound set of challenges for international human rights law. This week we will consider how international law seeks to protect human rights while accommodating the exigencies of war and other emergency. This involves exploring the process of derogation and considering the role of human rights law and human rights institutions in the context of derogation. It also involves considering the interaction between the overlapping regimes of international human rights law and the law of armed conflict. We will look in particular at the detention and control order regimes in the US and the UK following 9/11. Next week we will turn to killing and the right to life. What is at stake in the interaction between human rights law and the law of armed conflict, and how have different institutions addressed the question? Are the two regimes rooted in a common normative underpinning? If so, how are we to understand their divergence on key issues? What are the institutional and political consequences of courts' application of human rights in war? In addition to detention, we will also consider the non-derogable prohibition on torture (a ban that applies with equal force in human rights law and the law of armed conflict). Given the widespread complicity in, and occasionally explicit endorsement of, torture in many liberal democracies in the early years of the "global war on terror," where does this supposedly unambiguous prohibition stand today? What was the role of lawyers in weakening it and what does their success in doing so indicate about the vulnerabilities of international human rights law? What are we to make of the Israeli Supreme Court's opinion on the issue? If balancing is appropriate for some rights, what is the basis for precluding it here? What do these discussions indicate about the international legal category "human rights"?

Required Reading:

16 items

Further Reading:

24 items

Week 6 - War (continued); the Territorial Limits of Human Rights

34 items

This week continues the discussion on human rights in war, but turns from liberty (derogable) and torture (non-derogable and similarly prohibited in both regimes) to the right to life (typically non-derogable and yet not protected identically in war and in peace). We will examine the rules on killing under the law of armed conflict and consider how these diverge from the rules under international human rights law. How are we to understand the interaction between the two regimes in war? Where does the current practice of targeted killing fit? Which regime (if either) applies and what turns on this – normatively, practically, institutionally? Where do the standards articulated by the Israeli Supreme Court and the Obama Administration leave us in this respect? What is the role of law here? A second issue – often, but not uniquely, arising in debates on the application of human rights law in war – is that of the territorial limits of a state's human rights obligations. We will explore the ways in which doctrines defining those limits have evolved over time, considering why different legal authorities have articulated different standards and considering the implications for the future. In particular, we will reflect on how existing doctrines of extraterritorial human rights obligations, developed in the context of the state's physical presence and control abroad, do or do not illuminate contemporary challenges like drones and electronic surveillance. Why does territory matter at all? What is at stake in developing the legal regime in this area? What are the avenues of most promise for progressive modes of extraterritorial accountability? Is there a dark side to enhanced extraterritorial protection?

Required Reading:

19 items

Human Rights Committee, Concluding observations on the 4th periodic report of the USA (2014) CCPR/C/USA/CO/4 (23 April. 2014) ¶ 22

http://tbinternet.ohchr.org/_layouts/treatybodyexternal/Download.aspx?symbolno=CCPR%2FC%2FUSA%2FCO%2F4

Further Reading:

15 items

Week 7 - The Duty to Fulfill and the Challenge of Economic and Social Rights

38 items

In what sense, and under what conditions, can economic and social rights provide the basis for international law to check domestic political decision-making? What do the treaties and the associated interpretive bodies suggest is the meaning of identifying economic and social rights as international legal rights? The core difficulty in the context of economic and social rights is, of course, that of resources. Can the complexities posed by limited available resources be accommodated in a way that leaves a role for international law in this domain? Have the relevant supranational authorities' efforts in this regard shown promise in defining a place for international human rights law in the protection of economic and social rights? Do domestic constitutional judgments on economic and social rights (particularly in India and South Africa) demonstrate the justiciability of economic and social rights? Can they inform our understanding of the international legal regime on these issues?

Required Reading:

14 items

Report of the Special Rapporteur on extreme poverty and human rights, Magdalena Sepúlveda Carmona, UN Doc. A/HRC/26/28 (22 May, 2014) ¶¶ 36-69

On Moodle.

Further Reading:

24 items

Week 8 - Group Rights

23 items

One of the key complexities that we have discussed from various angles in prior weeks is that of the conflict between different human rights and between particular human rights and other social values. A further complication, however, is the notion that groups may have rights independent of, and perhaps contrary to, the projects or wishes of at least some of their members. Note that this is a very different concept from that of non-discrimination (discussed in prior weeks), which protects individuals from various harms that might be inflicted on them in virtue of their group membership, and which is enshrined in a wide array of human rights treaties and provisions. Here the issue is instead that the group itself may hold distinct rights. This concept raises the prospect of further conflict internal to international human rights law and triggers a number of questions. What do group rights capture that individual rights do not? Can the vision of individual human dignity that might seem to be at the core of international human rights law be reconciled with a notion of group rights that allows such rights to deviate from the interests and projects of the group's members? Accepting the concept of group rights, which groups should be given special recognition and protection? Are groups to be defined objectively or subjectively? Who is entitled to speak for the group when the membership is not unanimous on a particular rights issue, and on what grounds? Who decides that question? Perhaps the most profound group right (in theory) is the right to self-determination. What are we to make of that right and of its inclusion in the domain of international human rights law? What does it entail? Under what conditions may it be invoked? What is the status of indigenous peoples in human rights law and why? Do different kinds of groups warrant different kinds of concerns?

Required Reading

22 items

· COE Franework Convention for the Protection of National Minorities (1 February, 1995)

· ECHR, Protocol No. 1

· Inter-American Democratic Charter, adopted by the General Assembly of the OAS (11 September 2001)

· Declaration on the Granting of Independence to Colonial Countries and Peoples (1960)

· Document of the Copenhagen Meeting of the Conference on the Human Dimension, June 29, 1990 arts 31-38

· Commentary of the Working Group on Minorities to the United Nations Declaration on the Rights of Persons Belonging to National or Ethnic, Religious, and Linguistic Minorities, U.N. Doc. E/CN.4/Sub.2/AC.5/2005/2 (2005)

· CmtERD General Recommendation 23, Rights of indigenous peoples (Fifty-first session, 1997), U.N. Doc. A/52/18, annex V at 122 (1997)

· The Mayagna (Sumo) Indigenous Community of Awas Tingni v. the Republic of Nicaragua, Judgement, 31 August 2001, IACtHR, Series C No. 79

· African Commission on Human and Peoples' Rights, Resolution on the Adoption of the Report of the Working Group on Indigenous Populations/Communities, 34th Ordinary Session (2003)

· Allen E. Buchanan, Justice, Legitimacy, and Self-Determination: Moral Foundations for International Law (2004)

· Allen Buchanan, Theories of Secession, 26(1) Philosophy & Public Affairs 31 (1997)

· Thomas M. Franck, The Emerging Right to Democratic Governance, 86 Am. J. Int'l L. 46 (1992)

· Karen Knop, Diversity and Self-Determination in International Law (2002)

· Edward McWhinney, Self-Determination of Peoples and Plural-Ethnic States in Contemporary International Law (2007)

· Christopher Heath Wellman, A Theory of Secession: The Case for Political Self-Determination (2005)

· Foundation on Inter-Ethnic Relations, The Lund Recommendations on the Effective Participation of National Minorities in Public Life (1999)

· Marc Weller ed., The Rights of Minorities in Europe: A Commentary on the European Framework Convention for the Protection of National Minorities (2005)

· Antonio Cassese, Self-Determination of Peoples: A Legal Reappraisal (1995)

· Diane F. Orentlicher, Separation Anxiety: International Responses to Ethno-Separatist Claims, 23 Yale J. Int'l L. 1 (1998)

· Patrick Thornberry & María Amor Martin Estébanez, Minority Rights in Europe: A Review of the Work and Standards of the Council of Europe (2004)

· Marc Weller, Universal Minority Rights: A Commentary on the Jurisprudence of International Courts and Treaty Bodies (2007)

· Steven Wheatley, Minorities, Democracy and International Law (2005)

· Steven R. Ratner, Does International Law Matter in Preventing Ethnic Conflict, 32 NYU J. L & Pol 591 (2000)

· Hurst Hannum, Minorities, Indigenous Peoples, and Self-Determination, in Human Rights: An Agenda for the Next Century 1 (Louis Henkin & John Lawrence Hargrove, eds., 1994)

· Oscar Janowsky, Nationalities and National Minorities (1945)

· Robert Cullen, Human Rights Quandary, 71 Foreign Affairs 79 (Winter 1992/1993)

· R Wirising ed., Protection of Minorities: Comparative Perspectives (1981)

· Louis B. Sohn, The Rights of Minorities, in The International Bill of Rights 270 (Louis Henkin ed., 1981)

· Gregory H. Fox, Self-Determination in the Post-Cold War Era: A New Internal Focus? 16 Mich. J. Int'l L. 733 (1995)

· S. James Anaya, Indigenous Peoples in International Law 56-57 (2d ed. 2004)

· Viniyanka Prasad, The UN Declaration on the Rights of Indigenous Peoples: A Flexible Approach to Addressing the Unique Needs of Varying Populations, 9 Chi. J. Int'l L 297 (2008)

· Patrick Thornberry, Indigenous Peoples and Human Rights (2002)

· Alexandra Xanthaki, Indegenous Rights and United Nations Standards: Self-Determination, Culture, and Land (2007)

· International Law and Indigenous Peoples (Joshua Castellino and Niamh Walsh eds. 2005)

· James Crawford ed., The Rights of Peoples (1992)

· Philip Alston ed., Peoples' Rights (2001)

Week 9 - Sharing Human Rights Violations: Non-Refoulement, Complicity, and Competing Legal Obligations

38 items

One of the most pressing challenges in the context of international human rights law (and international law in general) is that of shared responsibility. There is very little law on what it means for multiple states to be responsible simultaneously for the same violation. And yet, increasingly, human rights violations occur either through complex systems of interstate collaboration or in a context of global inaction. We will consider various dimensions of this problem in weeks 9 & 10 of this module and in week 1 of PUBLG063. This week we will examine international legal authorities' limited efforts to address this issue as it has arisen in the context of collective government action that violates the duties to respect and protect human rights. Next week we will turn to the issue of human rights violations perpetrated pursuant to other international legal obligations (particularly in the context of international organisations). In the first week of PUBLG063, we will consider collective failures to discharge the duty to fulfill, particularly in the domains of climate change and economic development. Our discussion this week will begin with the most well-developed doctrine relevant to shared responsibility for human rights violations – that of non-refoulement – but we will quickly see the need for a more comprehensive architecture of collective responsibility. We will distinguish two forms of shared human rights failures: (i) cooperating in another state's wrongdoing, and (ii) shared non-cooperative wrongdoing (such as when military opponents jointly cause an indivisible wrong). In thinking about these scenarios, what are the stakes on either side? Is the trend towards cooperative inter-state ventures, particularly in the security sector, diffusing human rights responsibility and undermining accountability? What law applies when states subject to different international human rights regimes act together?

Required Reading:

13 items

Hess v UK, European Commission of Human Rights, App no. 6231/73 (1975).

Al-Nashiri v. Poland, ECtHR, App no. 28761/11 (24 July, 2014)

Document Essential ¶¶ 41, 47-61, 83-111, 401-443, 451-459, 509-519, 530-531, 586-589

Further Reading:

25 items

Week 10 - Fragmentation Revisited: A Human Rights Duty to Violate International Law?

12 items

What happens when states' human rights obligations conflict with other international law obligations? Is jus cogens of any use in resolving such conflicts? Are there ways in which expansive doctrines of shared responsibility might be counterproductive from a human rights or rule of law perspective? What are the implications for how activists, institutions, states, or architects of the regime might move the regime forward? The current consensus is that waging war to prevent severe human rights violations is unlawful, unless authorized by the UN Security Council. What are the putative dangers of permitting unilateral humanitarian intervention as a matter of international law? Are they convincing? Did the emergence of the Responsibility to Protect (R2P) concept change the terms of this debate? Does it create another form of normative conflict? What is the meaning of the Kosovo Commission's notion of "illegal yet legitimate" war?

UN Charter - United Nations 1945

Document Essential arts 1-2, 23-26, 39-51, 55, 56, 103

· Philip Alston ed., The EU and Human Rights (1999)

· Matej Avbelj, Filippo Fontanelli, Giuseppe Martinico, Kadi on Trial (2014).

· Jean d'Aspremont & Frédéric Dopagne, Kadi: The ECJ's Reminder of the Elementary Divide Between Legal Orders, 5 Int'l Org L. Rev. 371 (2008).

· Ian Brownlie & C.J. Apperley, Kosovo Crisis Inquiry: Memorandum on the International Law Aspects, 49 ICLQ 878(2000)

· Erika de Wet, The International Constitutional Order, 55 ICLQ 51 (2006).

· Thomas Franck, Recourse to Force (2002) Chs. 9-10.

· Christine Gray, International Law and the Use of Force (2008) Chs. 2 & 8.

· Aidan Hehir, Humanitarian Intervention after Kosovo: Iraq, Darfur and the Record of Global Civil Society (2008).

· N. Türküler Isiksel, Fundamental rights in the EU after Kadi and Al Barakaat, 16 Eur. L.J. 551 (2010).

· Juliane Kokott and Christoph Sobotta, The Kadi Case – Constitutional Core Values and International Law – Finding the Balance?, 23 Eur. J. Int'l L. 1015 (2012).

· Nico Krisch, Legality, Morality and the Dilemma of Humanitarian Intervention after
Kosovo, 13 Eur. J. Int'l L. 323 (2002).

· Eve
Massingham, Military Intervention for Humanitarian Purposes: Does
the Responsibility to Protect Doctrine Advance the Legality of the Use of Force for Humanitarian Ends?, 876 Int'l Rev. Red Cross 803 (2009).

· Cedric Ryngaert, The European Court of Human Rights' Approach to the Responsibility of Member States in Connection with Acts of International Organizations, 60 ICLQ 997 (2011).

· Aurel Sari, The Relationship Between Community Law and International Law after Kadi, in International Law in a Multipolar World (Matthew Happold, ed., 2011).

· Jennifer Welsh, The Responsibility to Protect: Dilemmas of a New Norm, 111 Current History 291 (2012).

· Katja S. Ziegler, Strengthening the Rule of Law, but Fragmenting International Law: The Kadi Decision of the ECJ from the Perspective of Human Rights, 9 Hum. Rts. L. Rev. 288 (2009).

· Marko Milanović, 'Norm Conflict in International Law: Whither Human Rights?', 20 Duke J. Comp. & Int'l L. 69 (2009).
All rights reserved ©
Profile Required
Reading intentions and notes are stored against your user profile. Please create a profile to use this feature.
My notes
You must be logged in to add a note
What are item notes?
You can use item notes to make personal notes on any of your reading items. Notes are private to you and will not be shown to other users.
You can review your item notes from the list, the item page or from your profile page.
---
How do I create an item note?
To make notes, first you must be logged in. Once logged in, simply click Add note? next to the list item you wish to make notes on. You can also make notes at the bottom of every item's detail page.
Your note will be saved automatically as you type.
Have you read this?
You must be logged in to set a reading intention
What are reading intentions?
Setting up reading intentions help you organise your course reading. It makes it easy to scan through your lists and keep track of progress. Here's an example of what they look like: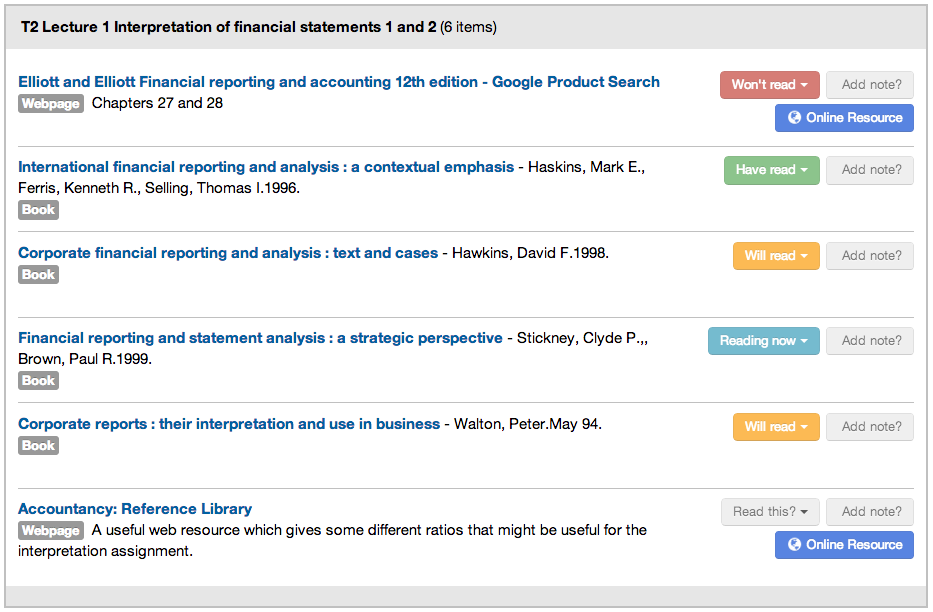 Your reading intentions are also stored in your profile for future reference.
---
How do I set a reading intention
To set a reading intention, first you must be logged in. Once logged in, click Read this? next to the list item you wish to set a reading intention for.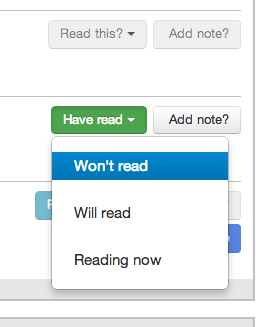 You can also set the reading intention from every item's detail page.