ANTH0097: Medical anthropology
Academic Year 2018/19
Archived
Old code : ANTHGD01 postgraduate Term 1:
This list relates to the academic year Academic Year 2018/19 which ended on 05/07/2019
This list has been archived
Term 2 Clinical Ethnography Readinglist MSc Medical Core

6 items

Week 1: Varieties and Complications of Ethnographic Observation and Participation (Joe Calabrese)

4 items

Classic ethnography privileges prolonged immersion as a path to understanding society and culture. We will discuss the strengths and weaknesses of this method and the variety of ways it has been used. We start with a classic statement by Geertz that introduces his influential concept of ethnography as thick description, going beyond the observation of events toward an understanding of intents and meanings. We will also discuss some of the political, ethical and epistemological critiques of ethnography and the ways in which ethnographers have addressed these critiques.

Week 2: Clinical Ethnography: Combining Cultural and Clinical Interpretation of Persons, Embodied States, Health, and Healthcare in the Field (Joe Calabrese)

2 items

Even classic ethnographies focused on society and culture are constructed based on work with particular informants. Person-centered ethnographic approaches are reflexively aware of this fact and they highlight the individuality of particular people encountered in the field in context. Reflexivity has been the primary way that ethnographers have addressed the critiques of ethnography. Any ethnographic approach is strengthened by reflexivity, which offers insight into the personal equation of the ethnographer. In medical anthropology, attention to particular persons, their bodies and subjectivities, is an extremely appropriate approach. When we incorporate clinical awareness of self and other (e.g. analysis of countertransference), or when clinicians embed themselves in particular clinical contexts to gather data that enlighten not only social theory but also clinical practice, we get into a domain that we can call clinical ethnography.

Clinical Ethnography - Herdt, Gilbert H., Stoller, Robert J. c19900231069006

Chapter In Herdt, G., and R. Stoller. Intimate Communications: Erotics and the Study of Culture. New York: Columbia University Press.

Course Description:

0 items

This course will introduce Medical Anthropology, which is the subfield of anthropology concerned with how human societies respond to and shape the experiences of health, illness, and recovery. These human responses include uniquely evolved systems of diagnosis and therapeutic intervention. Medical anthropology also studies cultural definitions of health and well-being, including critical analysis of the social relations and ideologies that help constitute modern biomedical systems. Whereas the biomedical sciences increasingly reduce health and illness to biology, medical anthropology emphasizes the influence of cultural interpretations and norms, social and political structures, inequality, ecological contexts, and human relationships as they shape local clinical realities.

Weekly tutorials will cover selected topics from lectures, discuss in detail assigned readings, and engage in periodic exercises that highlight central themes in medical anthropology. Readings will be done beforehand and students will guide discussions.

Electronic Coursework Submission

0 items

Once you are enrolled on a course within the Department of Anthropology, you will automatically be enrolled on its corresponding module on AnthroMoodle, which can be accessed via the internet on campus or from home. The course code and name are the same as the ones on top of your reading list. Go to http://moodle.ucl.ac.uk and use your user-id and password to access the course (note that this address contains no "www"). On the course page simply follow the link for electronic submission to submit your work. The deadline for submission is the same for both, the printed and the electronic copy. If you have problems accessing moodle please contact anthmoodle-admin@ucl.ac.uk

Policy on Late Coursework

1 item

(i) A penalty of 5 marks will be applied to coursework submitted the calendar day after the deadline (calendar day 1).

(ii) A penalty of 15 marks will be applied to coursework submitted on calendar day 2 after the deadline through to calendar day 7.

(iii) A mark of zero will be recorded for coursework submitted on calendar day 8 after the deadline through to the end of the second week of third term. Nevertheless, the assessment will be considered to be complete provided the coursework contains material than can be assessed.

(iv) Coursework submitted after the end of the second week of third term will not be marked and the assessment will be incomplete.

Students should aim to get their essays in well before the deadlines, not least because of delays caused by faults with computers, printers, photocopiers and the like. Do not expect everything to work smoothly. Note that no extensions are given for computer problems or for reasons connected to the demands of paid employment. Extensions up to specific dates may be obtained only with the presentation of a medical note or a note outlining serious personal circumstances (e.g. bereavement). Extensions should be requested from the Undergraduate Coordinator or if unavailable, the Exams Officer. All medical and other relevant notes should be copied, and one copy delivered to the Undergraduate Coordinator. Always keep a copy of such notes. NB: Course tutors and teaching assistants CANNOT give extensions. After submitting coursework for which an extension has been granted, please email Keiko Homewood and the Undergraduate Coordinator informing them that you have submitted the coursework.

All required readings can be found at http://readinglists.ucl.ac.uk/modules/anth3007.html and other course material can be found at: http://moodle.ucl.ac.uk (type 'medical anthropology' in the search courses section, and select ANTH3007 or ANTHGD01, the system should ask you whether you would like to enrol, the enrolment key is the module code: ANTH3007/ANTHGD01). Online library catalogues: www.ucl.ac.uk/library, www.soas.ac.uk/library, www.ull.ac.uk (Senate house library), http://blpc.bl.uk (Britishlibrary) Online journals: For example Culture, Medicine and Psychiatry, Medical Anthropology Quarterly, Social Science and Medicine, Journal of the Royal Anthropological Institute, American Ethnologist, Critique of Anthropology, Comparative Studies in Society and History, Public Culture. www.ucl.ac.uk/library/ejournal Online databases (with ATHENS password): www.bids.ac.uk Online second hand books: www.abebooks.co.uk Online new books: www.amazon.co.uk

Useful Background Readings for the Course

6 items

Week 1: Mapping Diverse Societies, Bodies, Illnesses and Interventions (Calabrese). Lecture Monday 1st Oct

3 items

This week will provide some basic orientations to Medical Anthropology: it's main theoretical perspectives (interpretive, critical, clinical), central concepts, and relevance. The lecture will discuss anthropological understandings of illness and healing and the connections between local illness concepts and local cultural understandings and moral values. These connections result in a diversity of explanations for illness across societies (e.g. soul loss, spirit possession, witchcraft or genetics) as well as diverse illness manifestations. In some cases, these connections problematize our usual cultural assumptions about what is abnormal or unhealthy, bringing in critical studies of medicalization and ethnocentric diagnosis.

Week 2: The Anthropology of Depression (Cook) Lecture Monday 8th October

3 items

Along with schizophrenia and bipolar disorder, depression is one of 'The Big Three' syndromes that dominate psychiatric services. Depression may range in intensity, taking mild, moderate or severe forms. More extreme depression may be characterized by feelings of terrible sadness, low self-esteem, and an acutely painful state of mind, which triggers changes in basic body functions, such as ability to sleep or eat, as well as agitation and questioning the value of life. Rates of depression are rising and in 1998 the World Health organization predicted that depression would be the second-largest global health burden by 2020. Is depression a disorder? A diagnosis? A dimension of the human condition? In this lecture, we will examine the changing frameworks through which depression has been understood and treated over the past fifty years, considering biomedical and psychosocial understandings of mental suffering. We will consider the ways depression has been understood in anthropological and social scientific analyses. And we will explore how changing understandings of depression are related to broader ideas about mental health and how to take care of it.

Week 3: Engaging Medicalisation, Power and Agency; The scope and limits of 'critique' (Gibbon) Lecture Monday 15th Oct

4 items

Drawing on range of theoretical ideas as well as ethnographic texts and films this lecture will explore the history, genealogy and ongoing evolution of the critique of medicalisation in Medical Anthropology. We will examine how this and related concepts (such as 'biomedicalisation' or ' the bio-technical embrace') have emerged, their ongoing relevance and how they are made complex in anthropological research. We will consider for instance the relationship between medicalisation and de-medicalisation in moves to towards promoting 'natural' practices in relation to breast-feeding or birth or the ways that the spread of 'm-health' technologies challenge and/or reproduce medicalisation. Of particular relevance will be the inter-relations between power, agency, identity and subjectivity in now global but also uneven spread of a range of health technologies in fields such as reproductive medicine or genomics. We will also examine how the notion of medicalisation is situated within the parameters of an approach that is described as 'Critical Medical Anthropology' and the argument that biomedicine obscures and disguises, or itself directly contributes, to perpetuating structural health inequalities. Finally we will think about how medical anthropology can frame its critique of medicalisation whilst also engaging with biomedicine in collective efforts to improve health.

Required Readings

4 items

Week 4: Pharmacon, Industry, and the Placebo Effect (Parkhurst) Monday 22nd October

4 items

This week we will think about the social lives of medicines, and, of course, the people who consume them. Drugs are fascinating and important objects to study. Their uses and abuses highlight the complexity of medical anthropology. Pharmaceuticals lie at the intersection of politics, economy, health and bioethics. They problematize theories of medicalization, and can serve as a nexus between medical and social anthropology, and material culture studies. We will think through the social and biographic lives of pharma, including how people ascribe meaning to their medications, how social metaphors inform pharmaceutical research, anthropological ideas on the placebo effect, drug trials, and the pharmaceutical person.

Week 5: Governing the Mind and the Therapeutic State (Cook) Lecture Monday 29th Oct

3 items

Since the 1990s governmental interest in well-being, resilience, and character has led to a host of policy innovations in the UK and abroad. Trends in 'therapeutic' and 'psychological governance' have reshaped the role of state institutions and citizen responsibilities. Policy is now informed by psychological research, challenges in civil society are framed as resulting from the structures of human cognition, and collaborations have developed between government, psychologists, and private citizens in the pursuit of well-being. Much social scientific work on the relationship between psychology and governance has drawn on Foucault's theories of 'governmentality' and 'biopower'. In this lecture, we will consider Foucault's work and anthropological research that draws on this analytic framework. We will then consider alternative ways of thinking about the increasing presence of psychology and psychological ethos from an anthropological perspective.

[5th – 9th Nov = READING WEEK. No classes.]

0 items

Week 6: Clinical Ethnography and the Complexities of Global Mental Health (Calabrese) Lecture Monday 12th Nov

3 items

In this session focused on the process of field research in medical anthropology, the instructor will reflect on his use of embedded clinical ethnography (incorporating local clinical practice) to understand mental illness and its treatment at diverse field sites (the Navajo Nation, the Kingdom of Bhutan, and teaching hospitals of Harvard Medical School). The discussion will illuminate the interplay of local and global realities and emphasize the necessity of studying illness and interventions in their local contexts.

Week 7: The political ecology of infectious diseases and epidemics (Iskander)

3 items

In this session we investigate infectious diseases and epidemics including factors that affect their emergence, transmission, prevention, control and elimination. The particular focus is on understanding the way in which political ecology intersects with disease. We will explore how different disciplines can shed light on various aspects of disease (as well as the repercussions for practitioners when they do) and emphasise the benefits of situating our understanding of infections and epidemics in historical, cultural, political, economic and ecological/environmental context. As case study examples, this lecture explores the impact of colonialism and ecological change on malaria in the Philippines and the intersection of political economy and cultural practice with viral haemorrhagic fevers (especially Ebola) in Central and West Africa. Required readings build on themes and issues discussed in the lecture and provide more case study material relating to cholera in Venezuela, neglected tropical diseases in East Africa, H5N1 in south-east Asia and Ebola in central Africa.

Required Readings

3 items

Week 8: (Un)controllable emotions, suffering and cultural syndromes: Past and present debates (Montesi) Lecture Monday 26th Nov

3 items

Anthropologists have documented a wide range of illnesses linked with emotional suffering and expressed through ʻfolk' idioms. These illness experiences often manifest themselves through a collection of symptoms, from dizziness and tiredness to diarrhoea and vomit, and some are associated with the life-threatening loss of vital energies and even of the soul. After providing a description of the main theoretical perspectives that anthropologists have employed to explain and make sense of these ʻsyndromes', we will look more closely at the case of susto (fright), which cuts across numerous Latin American contexts. Examining susto, we will reflect on the nature of emotions, how they influence experiences of health and illness, and what they are able to reveal about social norms, deviance, conceptualisations of personhood, and pathways of individual and social suffering. By looking at a multiplicity of susto experiences and their recent overlap with biomedical disease concepts, we will question whether and how fright can be healed.

Week 9: Can Pathology Contribute Directly to Culture? (Littlewood) Lecture Monday 3rd Dec

3 items

Psychiatry and anthropology alike have been reluctant to consider the possibility that frank psychosis may provide a model for social organisation and ideas. The situation in which this may occur is illustrated by my fieldwork with the founder of a West Indian religion. Individual delusions may be converted into a shared public culture by the manipulation of a previously accepted public symbolism, and a simple inversion of traditional values in some area may enable a whole community to attain a more sophisticated conceptualisation. In particular, antinomian acts rooted in psychopathology may generate a more universal dispensation out of systems of dual classification.

Required Readings

3 items

Some additional readings in medical anthropology

46 items

Soul loss - Robert R Desjarlais

Chapter Part 1 chapter 5 in this e-book.

Additional topic (not lectured this year): Body, Self and the World

23 items

In this lecture we engage with phenomenological approaches to the body, and consider the ways in which bodies are made. We examine what an approach to the body as an always incomplete and unbound work might contribute to medical anthropology. Questions to discuss will include what are the strengths and weaknesses of a phenomenological approach? Is 'keeping oneself together' something the embodied person needs to do? We will also explore how identity and 'the self' is constructed through genetics and biomedical constructs of the body, with case studies from the lecturers fieldwork in the middle east.

Suggested Readings:

21 items
All rights reserved ©
Profile Required
Reading intentions and notes are stored against your user profile. Please create a profile to use this feature.
My notes
You must be logged in to add a note
What are item notes?
You can use item notes to make personal notes on any of your reading items. Notes are private to you and will not be shown to other users.
You can review your item notes from the list, the item page or from your profile page.
---
How do I create an item note?
To make notes, first you must be logged in. Once logged in, simply click Add note? next to the list item you wish to make notes on. You can also make notes at the bottom of every item's detail page.
Your note will be saved automatically as you type.
Have you read this?
You must be logged in to set a reading intention
What are reading intentions?
Setting up reading intentions help you organise your course reading. It makes it easy to scan through your lists and keep track of progress. Here's an example of what they look like: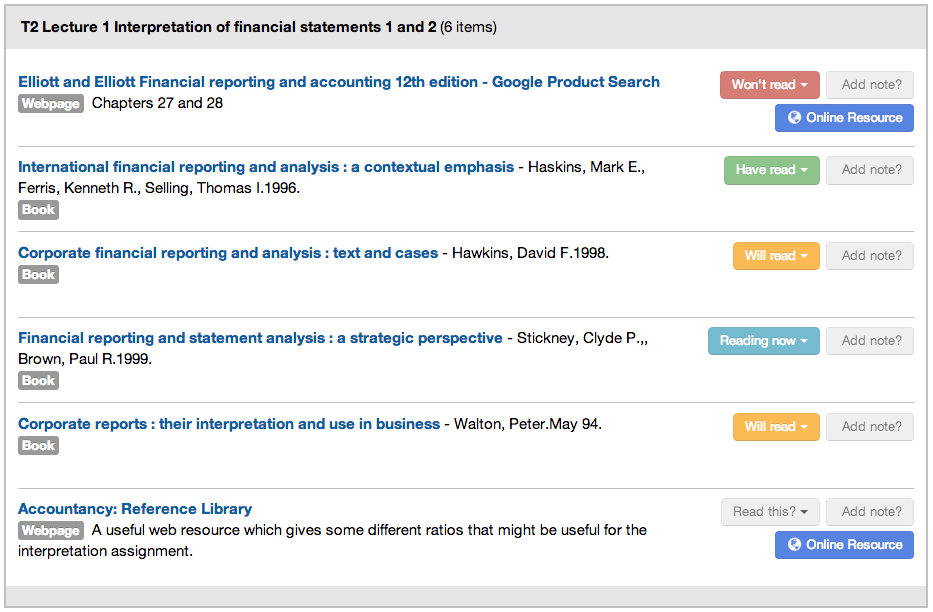 Your reading intentions are also stored in your profile for future reference.
---
How do I set a reading intention
To set a reading intention, first you must be logged in. Once logged in, click Read this? next to the list item you wish to set a reading intention for.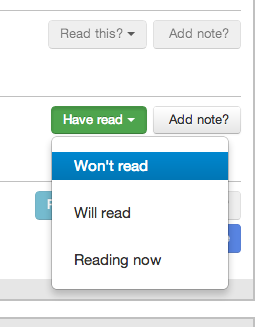 You can also set the reading intention from every item's detail page.