HIST0771: Gender and Sexuality in Transnational Perspective: 1850-1980s
Academic Year 2018/19
Archived
This list relates to the academic year Academic Year 2018/19 which ended on 05/07/2019
This list has been archived
Course Description

1 item

This course places gender and sexuality in a transnational framework, tracing the movement and exchange of ideas between different national contexts in the late 19th and 20th centuries. It will examine the role of social, political and intellectual networks, travel and literature in developing transnational concepts of gender and sexuality. The course will invite us to consider the extent to which some of the key shifts in attitudes toward gender and sexual identities and practices in this period were the product of shared transnational movements and to explore the interrelationship of global and local factors in producing distinct regional interpretations of those movements.

These themes will be explored through a succession of case studies, including the role of colonial emigration societies in fostering gendered networks and promoting middle-class British models of family life across the Empire; questions of access and cultural context in assessing the impact of sexology on late 19th century conceptualisations of sexual identity and practice; the work of the International Woman Suffrage Alliance and the development of women's suffrage as an international movement; conscientious objection and the articulation of a gendered pacifism in the early 20th century; Marie Stopes and Margaret Sanger's involvement in transnational eugenics networks and the linking of race and reproduction in the interwar period; the exchange of literature and development of transnational networks between homophile groups in the 1950s and 1960s; the symbolic impact of New York's Stonewall Riots and the birth of gay liberation as an international movement; the transnational distribution of feminist texts in the 1960s and 1970s; and the development of women-only communal housing and rural communities as a local expression of transnational feminist ideology. Seminars will be based on analysis of primary sources related to the case studies. The course will be assessed by means of two essays.

Class/Seminar Topics

1 item

First Term

Introduction: historiography and concepts
Gender and colonial emigration
Sexology
The international suffrage movement
Eugenics: Marie Stopes, Margaret Sanger
Gender, race and the body in international sport
The homophile movement
Stonewall and Gay Liberation
Feminist texts and the exchange of ideas
Separatist communities and feminist networks

General Bibliography

25 items

Week 1: Introduction: historiography and concepts

54 items

Transnational history:

3 items

Week 2: Gender and Colonial Emigration

27 items

Week 3: Sexology

44 items

The emergence of sexology, or the sexual sciences, in the late 19th century has been understood by historians as a key development in modern understandings of sexuality. This new discipline has been credited with the creation of new categories of sexual identity such as 'the homosexual' as well as, more fundamentally, the notion that sexuality is at the heart of how we understand ourselves as individuals. However, while early historical scholarship represented sexology as highly influential, more recent research has emphasized regional and other differences in its impact and this seminar will consider these arguments and explore the national and transnational context of sexology. How did specific national contexts shape the emergence and reception of the sexual sciences? Many of the major works of sexological literature emerged from Germany and Austria, while the influence of sexology in Britain was more varied. We will explore how the broader cultural context and linguistic differences in these countries helped shape the reception of texts differently. At the same time, however, it is important to recognize the role of transnational networks and organisations in promoting and disseminating sexological ideas and we will discuss the significance of these networks.

Week 4: The International Suffrage Movement

28 items

Week 5: Eugenics: Marie Stopes, Margaret Sanger

35 items

Week 6: Gender, Race and the Body in International Sport

26 items

Week 7: The Homophile Movement

23 items

Week 8: Stonewall and Gay Liberation

28 items

Week 9: Feminist texts and the exchange of ideas

29 items

Week 10: Separatist communities and feminist networks

18 items

Lesbian Land 19850961560509,9780961560508

Book Please note this book is not currently available at UCL Library.
All rights reserved ©
Profile Required
Reading intentions and notes are stored against your user profile. Please create a profile to use this feature.
My notes
You must be logged in to add a note
What are item notes?
You can use item notes to make personal notes on any of your reading items. Notes are private to you and will not be shown to other users.
You can review your item notes from the list, the item page or from your profile page.
---
How do I create an item note?
To make notes, first you must be logged in. Once logged in, simply click Add note? next to the list item you wish to make notes on. You can also make notes at the bottom of every item's detail page.
Your note will be saved automatically as you type.
Have you read this?
You must be logged in to set a reading intention
What are reading intentions?
Setting up reading intentions help you organise your course reading. It makes it easy to scan through your lists and keep track of progress. Here's an example of what they look like: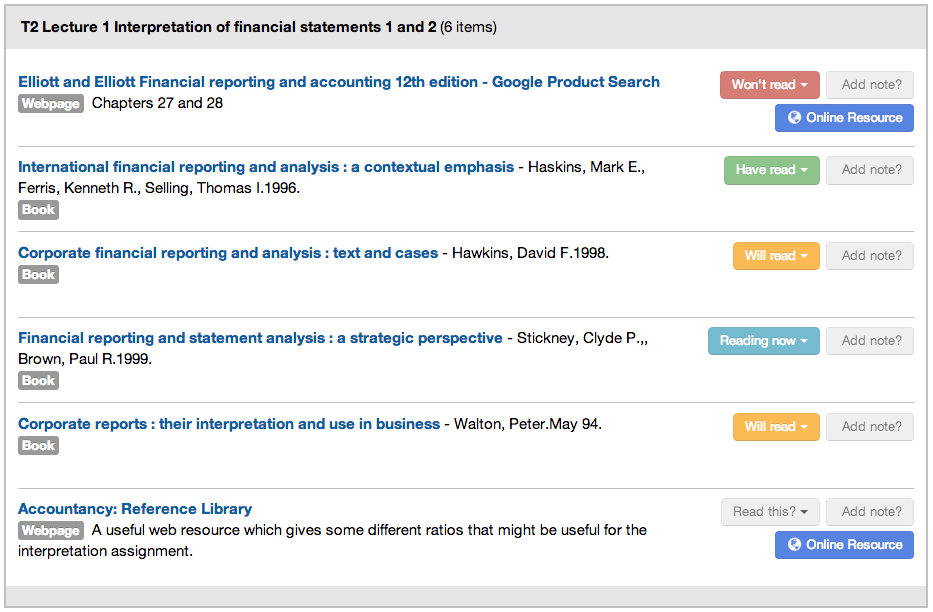 Your reading intentions are also stored in your profile for future reference.
---
How do I set a reading intention
To set a reading intention, first you must be logged in. Once logged in, click Read this? next to the list item you wish to set a reading intention for.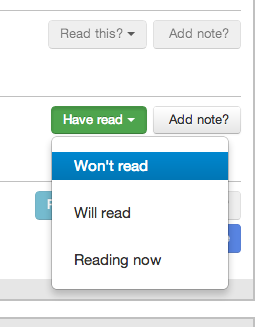 You can also set the reading intention from every item's detail page.