This list relates to the academic year Academic Year 2018/19 which ended on 05/07/2019
This list has been archived
You should read and familiarise yourself with the elements here as part of your basic professional preparation

Licensing professional software engineers - Phillip A. Laplante 01/07/2014

Article Essential This article is essential reading in terms of your professional awareness and the way in which software engineers may or may not be able to demonstrate their competence.

Current Awareness

9 items

The role of Artificial Intelligence in Software Engineering - Mark Harman 06/2012

Article Essential Although a few years old, this paper sets out a good overview of AI in Software Engineering applications, something that is increasingly important as machine learning is beginning to be used in real software engineering applications.

Website Recommended Technology news site - very broad coverage and less IT-industry specific, but you'll find lots of contrasting views here.

Project Management

38 items

Google: how Google works - Eric Schmidt, Jonathan Rosenberg, Alan Eagle, Larry Page March 20171455582328,9781455582327

Book Optional If you read one book to help you progress in your career I suggest you read this one. It emphasises that when Google appoint, they are looking for technologists and programmers who have demonstrated they have helped the team to succeed even when they are not the designated leader.

Succeeding with agile: software development using Scrum - Mike Cohn c20100321579364,9780321579362

Book Optional This has a detailed explanation of how to transition from the traditional roles of project manager to roles outlined to Scrum. The key point of this book is that the team agree a process and the ScrumMaster then acts as a coach to facilitate what has been agreed is carried out. The highest level of commitment is where the individuals in a team volunteer to take on tasks. Just as much a project and team building book as an authoritative outline of the agile method Scrum.

Software architecture in practice - Len Bass, Paul Clements, Rick Kazman c20030321154959

Book Recommended Award winning book that covers architecture views in-depth.

Reflections on management - Watts S. Humphrey 20109780321711533

Book Optional Watts is well known for his books on software development but this shows an in-depth understanding of the human dimension. Although my lectures cover many management authors, this short book that will help you with your projects, your team and your boss as well as managing yourself. Another excellent book by Watts is his book covering the SEI team approach to software engineering, Introduction to the Personal Software Process, SEI Series in Software Engineering, Addison Wesley, 2005, which I cite in lectures.

Rethinking project management: an organisational perspective - Erling S. Andersen 2008027371547X,9780273715474

Book Optional Many books on project management outline the tasks a project manager has to complete. This book puts the role into a wider context and covers the many conflicting dilemmas a project manager has to deal with. If you are only going to read one project management text I would recommend this one. Alternative books as an introduction to project management would be Trevor L Young Successful Project Management, Kogan Page Third Edition 2010, which is a short book with an emphasis on success factors.

Beautiful code 20070596510047,9780596510046

Book Optional An excellent book; covering the thinking behind selection of code, languages and approaches in the past, especially the chapter outlining how NASA chose a low risk approach by adopting SOA.

The balanced scorecard: translating strategy into action - Robert S. Kaplan, D. P. Norton c19960875846513

Book Optional This is a seminal book with a central theme that business and project managers should consider not just financial measures but the wider benefits of customer satisfaction, team working and learning as well as improved business processes. I will cover this book in detail in the lectures and also cover authors and researchers have extended the context to fully understand the goals and ensure that key stakeholders are brought into the process.

Key performance indicators - Bernard Marr 20129780273750116

Book Optional This book is based on the concepts outlined by Kaplan and Norton but in a succinct ways gives simples examples of commonly used KPIs in project reports. This book will be supplemented with examples for KPIs to evaluate web-sites and examples relevant to cloud technologies and your research projects.

Thinking, fast and slow - Daniel Kahneman 20111846140552,1846146062,9781846140556,9781846146060

Book Recommended This insightful book has numerous examples and explanations of human behaviour relevant to business. Reading this book you will realise why people are more worried about loss than gain; important if you are preparing a product pitch or project presentation. Ensure you cover challenges as well as opportunities!

CMMI for Development, Version 1.3

Document Recommended A particularly useful checklist of things you may like to consider in your project report. Outline of the value of this document will be briefly introduced in the first lecture, during the risk lecture covering causal analysis and last lecture, which covers process improvement.

Agile Project Management - Graham Collins

Document Recommended in Lester, A., Project Management Planning and Control, Chapter Appendix 1, pp.523-538, Elsevier 2014. The pdf for this chapter will be provided within the course website.
All rights reserved ©
Profile Required
Reading intentions and notes are stored against your user profile. Please create a profile to use this feature.
My notes
You must be logged in to add a note
What are item notes?
You can use item notes to make personal notes on any of your reading items. Notes are private to you and will not be shown to other users.
You can review your item notes from the list, the item page or from your profile page.
---
How do I create an item note?
To make notes, first you must be logged in. Once logged in, simply click Add note? next to the list item you wish to make notes on. You can also make notes at the bottom of every item's detail page.
Your note will be saved automatically as you type.
Have you read this?
You must be logged in to set a reading intention
What are reading intentions?
Setting up reading intentions help you organise your course reading. It makes it easy to scan through your lists and keep track of progress. Here's an example of what they look like: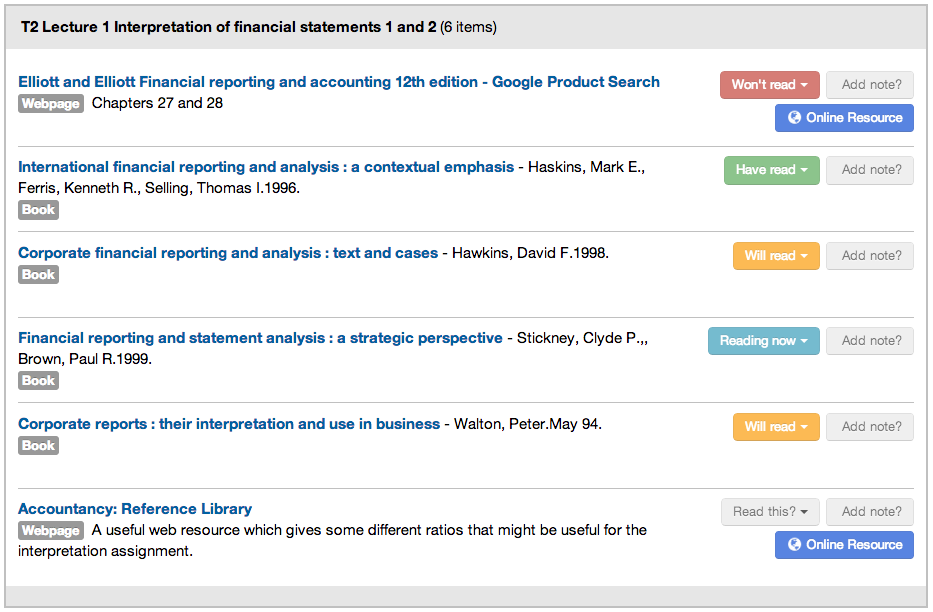 Your reading intentions are also stored in your profile for future reference.
---
How do I set a reading intention
To set a reading intention, first you must be logged in. Once logged in, click Read this? next to the list item you wish to set a reading intention for.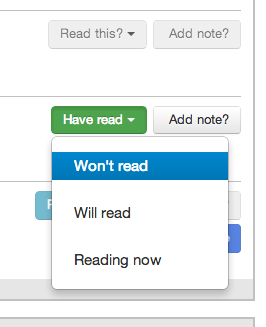 You can also set the reading intention from every item's detail page.