PSYCGN24: Introduction to Neuroscientific Methods: Vanessa Puetz
Academic Year 2017/18
Archived
MSc Developmental Neuroscience & Psychopathology : Yr 1. This module is the first course in your Neuroscience series and presents an introduction to a range of methods for studying the brain and cognitive and affective processing, including: structural and functional MRI, brain connectivity, animal models, EEG and neuroendocrine assessments. The goal of this course is to provide an introduction to the most commonly used methods as well as their applications to different samples (e.g. adults and children) and focus on making an informed selection based on the research question one wishes to investigate.
This list relates to the academic year Academic Year 2017/18 which ended on 20/07/2018
This list has been archived
Lecture 1: Wednesday 4th October 2017: Introduction to Neuromethods: Vanessa Puetz

3 items

This introductory lecture will provide a historical background on neuroscience as well as an overview of the most commonly used methods in the field as well as their applications in experimental designs.

Cognitive neuroscience: Origins and promise. - M. I. Posner, G. J. DiGirolamo 2000

Article Optional To access the full text of this article please click on the title, then on the SFX button on the next page. This is the only method of access which works.

Lecture 2: Wednesday 11th October 2017: Functional Magnetic Resonance Imaging (fMRI): Dr. Vanessa Puetz

4 items

This lecture will introduce one of the most commonly used techniques in Neuroscientific research, functional and structural magnetic resonance imaging (s/fMRI). Strength and limitations of this technique will be discussed, alongside potential applications.

Lecture 3: Wednesday 18th October 2017: Eyetracking: Ana Silver (Birkbeck)

3 items

This lecture will discuss the use of eyetracking methodology in neuroscientific research. An individual's on-line cognitive processing of scenes can be measured by tracking eye-movements and information can be derived by analysing a person's fixations and other metrics. Ana will introduce this measure and talk about his own research on visual cognition.

Lecture 4: Wednesday 25th October 2017 : Animal models of psychiatric disease: Dr. Cathy Fernandes (IoPPN, KCL)

4 items

In this lecture, Dr. Fernandes will talk about animal models of psychiatric disease, including how we can measure behaviour in rodents, explain the endophenotype concept for modelling psychiatric disease and present some examples of animal models of endophenotyoes of psychiatric disease such as Autism Spectrum Disorders (ASD).

Lecture 5: Wednesday 1st November 2017: EEG: Dr Viryanaga Kitsune (KCL)

3 items

Week 6: Wednesday 8th November 2017: The electric brain: brain stimulation as an experimental science and clinical intervention: Camilla Nord (ICN, UCL)

2 items

This lecture will introduce both experimental and clinical applications of deep brain stimulation and transcranial stimulation.

Lecture 7: 15th November 2017: TBC – Practical Structural / Functional or DTI

0 items

Lecture 8: Wednesday 22nd November 2017: A basic introduction to MATLAB: Dr. Amir Javadi (UCL)

4 items

This will be a basic introduction to the program MATLAB, which is amongst the most frequently used programs for neuroscientists and psychologists to conduct data analyses. This will be a hands-on session where you get to know the MATLAB interface, useful commands and examples of what it can be used for. This practical requires no previous experience in MATLAB or programming in general and is intended to give a basic overview of the program.

Please visit at least one of the websites listed below for an initial orientation. For those of you who would like to have some more information, there are useful resources / tutorials and manuals online:

Lecture 9: Wednesday 29th November 2017: Neuroendocrine assessments and brain connectivity: Dr. Vanessa Puetz

4 items

This lecture will introduce a number of other approaches that have been developed in the study of affective neuroscience. First, neuroendocrine assessments will be explored focusing on the measurement of the stress-hormone cortisol and the neuropeptide oxytocin, which plays a key role in human and animal pair-bonding. Relationships between these measures and psychopathology and behaviour will be explored. Second, the most commonly methods to investigate brain connectivity with fMRI will be introduced, i.e. Diffusion Tensor Imaging (DTI), Resting State Connectivity (RS-fMRI) and psychophysiological interaction analyses (PPIs).

Lecture 10: Wednesday 6th December 2017: Future directions in neuroscientific methods / Revision: Vanessa Puetz

4 items

In the final lecture of the course, we will explore future avenues of neuroscientific methods such as hyperscanning and review the material of the course.
All rights reserved ©
Profile Required
Reading intentions and notes are stored against your user profile. Please create a profile to use this feature.
My notes
You must be logged in to add a note
What are item notes?
You can use item notes to make personal notes on any of your reading items. Notes are private to you and will not be shown to other users.
You can review your item notes from the list, the item page or from your profile page.
---
How do I create an item note?
To make notes, first you must be logged in. Once logged in, simply click Add note? next to the list item you wish to make notes on. You can also make notes at the bottom of every item's detail page.
Your note will be saved automatically as you type.
Have you read this?
You must be logged in to set a reading intention
What are reading intentions?
Setting up reading intentions help you organise your course reading. It makes it easy to scan through your lists and keep track of progress. Here's an example of what they look like: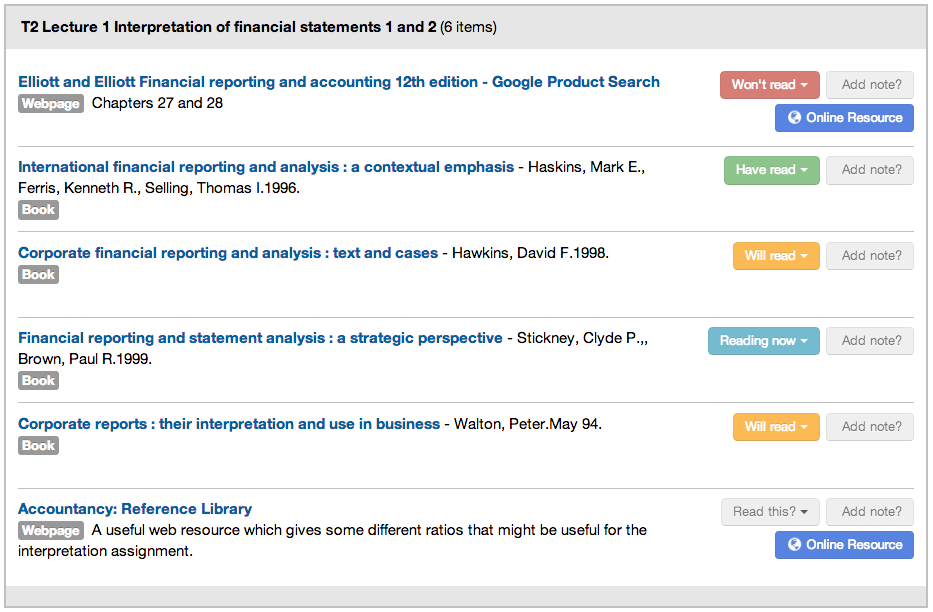 Your reading intentions are also stored in your profile for future reference.
---
How do I set a reading intention
To set a reading intention, first you must be logged in. Once logged in, click Read this? next to the list item you wish to set a reading intention for.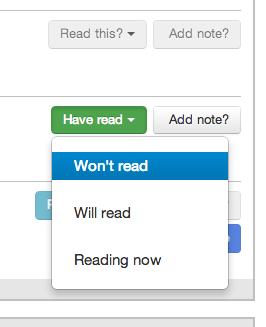 You can also set the reading intention from every item's detail page.